Azienda Agricola Ausonia
Atri (Teramo) | Abruzzo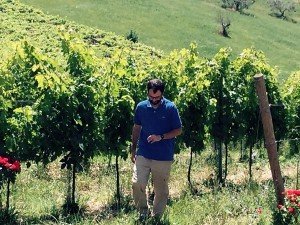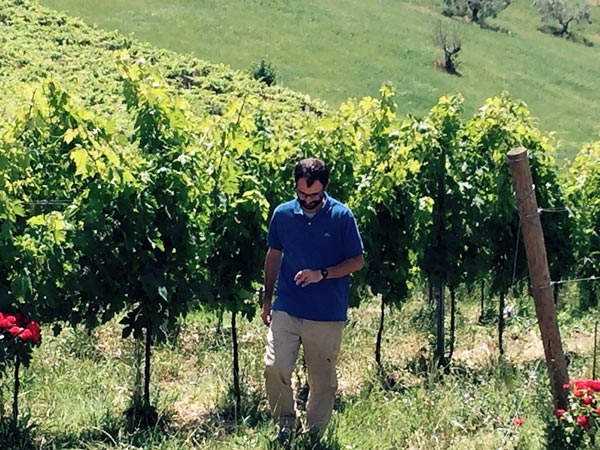 The origins of the organic micro-estate Azienda Agricola Ausonia are deeply tied to the land and nature of Abruzzo. Winemaker Simone Binelli's father, an entomologist, discovered one day while walking through his son's soon-to-be vineyards a rare, beautiful butterfly—the Euchloe ausonia.
With his father's encouragement, Simone decided to name his winery Ausonia, as a potent reminder that his new vine-growing pursuit should always be in harmony with the region's natural beauty.
Simone wasn't born into a winemaking family but soon discovered that winemaking, and not pharmacy, was his true calling. After studying enology in Florence, in 2006 he found a few acres of land near Atri in the heart of Abruzzo. From the start, organic viticulture has been the rule; native grape varieties Montepulciano, Trebbiano and lesser-known Pecorino have pride of place—the symbiosis of native grape and native terroir being the ultimate goal.
Even the cantina is in tune with the natural surroundings, its roof able to collect rainwater to be distributed to younger vines in the dryer summer months. As of 2014, the estate started practicing biodynamics, with a focus on composting and natural manure to maintain the health of their vineyards.
FARMING & WINEMAKING
Maintaining a natural balance between the soil and the vine is the guiding principle at Ausonia. Vines have been cared for organically from the start; yet in 2013, the estate began the official process of certification. The following year Simone introduced biodynamic preparations to the care of their vineyards, using natural and horn manure to help maintain soil nutrients.
Grapes are harvested by hand. White grapes are fermented in temperature-controlled, stainless steel tanks and aged in tank; reds as well are fermented and aged in tank.
Abruzzo Pecorino 'Machaon'
Pecorino is an ancient white grape variety believed to have grown wild in the mountains of the Marche (a coastal region north of Abruzzo). Vine growers have only recently rediscovered Pecorino, in the pursuit of reintroducing native grapes to this wine region (and not over-planted international grape varieties). The grape Pecorino, however, has nothing to do with pecorino, the cheese. With its flowery aromas, ripe and tangy flavors and touch of tropical fruit, Pecorino is an ideal summer wine.
Download fact sheet (PDF)

Trebbiano d'Abruzzo 'Apollo'
The perfect, fresh white wine for spring evenings. Aromas of fresh pears and lemon zest; juicy and light, with a citrus-lined finish. A great wine for an appetizer plate or fresh seafood.
Download fact sheet (PDF) 
Montepulciano d'Abruzzo 'Apollo'
An invigorating red wine from coastal Italy, chock-full of summer-ripe blueberries and blackberries. Abruzzo is Montepulciano's home terroir, and it is only here where this grape—with the combination of warm sun and cooling Adriatic Sea breezes—truly shows its delicious potential.
Download fact sheet (PDF)