Domaine Dumien-Serrette
Cornas | Northern Rhône
A bird's eye view of 'Patou,' like so many northern Rhone plots, reveals a miniscule vineyard, more akin to a postage stamp. Blink, and you might miss it.
But such is the story of Syrah on these steeply graded, granite slopes: generations-old families cherished the few ancient vines they had, usually selling their precious crop to the larger producers—Delas, Jaboulet, Chapoutier—upriver.
Winemaker Nicholas Serrette's father, Gilbert, did just that for years, until in the early 1980s they decided it was long time to try crafting a Cornas that best reflected both their soils and their family's centuries of toil. (The Dumien family has lived and worked in Cornas since 1515.)
Just one taste of 'Patou' is proof that the family's decision was sound. This is true Cornas, deeply colored, structured, profound; delicious young yet more than cellar-worthy.
Knocking on the family's weather-beaten cellar door, steps from the village center, reveals a practice that has not changed with time. Nicolas treads his organically raised grapes by foot, and presses them in an old-fashioned basket press—tradition is alive and well at Dumien-Serrette.
FARMING & WINEMAKING
In Celtic, Cornas means "burnt earth," which tells you volumes about the dry, warm conditions on these steeply graded stopes. Soils are primarily granite; vineyards are small and challenging to cultivate, given the abrupt drops and eroded faces of many of Cornas' hillsides.
Nicolas farms according to organic principles, but the estate is not certified. Grapes are harvested by hand, and tread by foot in cement tanks. Fermentation happens on indigenous yeasts. The marc is pressed in an old-fashioned, hand-cranked basket press. Wine is aged in older French oak barrels, and is lightly fined before bottling.
Cornas 'Patou'
'Patou' is the name of the small vineyard parcel located to the south of the village of Cornas. This pure Syrah wine showcases the true soul of Cornas: deeply colored, robustly structured, endlessly satisfying. Black and purple fruits mix with silky tannins and hints of licorice and soy.
Download fact sheet (PDF)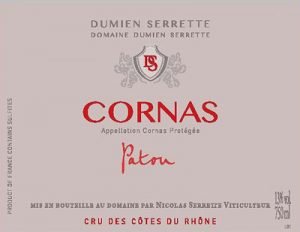 Cornas 'Henri'
This very limited selection is the heart and soul of the estate, a tribute to the winemaker's grandfather Henri, who would have been 100 years old in 2013, the very first vintage of this wine. A strict selection of the estate's oldest vines in 'Patou,' aged in older French oak barrels for nearly two years. The essence of old-vine Cornas and "old school" to its core, 'Henri' is a treasure for the cellar and will reward patience!
Download fact sheet (PDF)